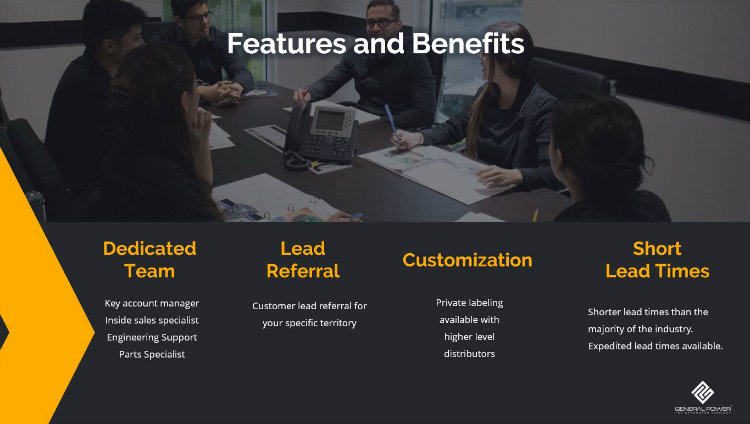 General Power Limited is one of the largest suppliers of generators, alternators and transfer switches in North America. We're here to help you in your search for the best products for your needs. Distributors and prospective distributors often ask the following questions, and in order to save you time General Power compiled their answers.
Q: How large is General Power's inventory?
A: We have more than $5 million in inventory of diesel generators, diesel engines, AC alternators, transfer switches, and alternator parts. We have a very large stock and industry-leading lead times that can be weeks or months quicker than competition.
Q: Which are the manufacturers that you work with?
A: We carry the largest inventory in North America of only the highest quality brands and products for the power generation industry including: 10 to 500 KW diesel generators, 100 to 2000 amp ASCO automatic transfer switches, Leroy Somer, Marathon, Mecc Alte, Stamford AC alternators and automatic voltage regulators, Basler and Deep Sea controls, to name a few. We also carry products from Cummins, Kohler-SDMO, Marelli, AvK, John Deere, Perkins and GE Zenith.
Q: Which companies is General Power official dealer for?
A: General Power is the official distributor in North America for Leroy Somer's product line of TAL alternators and stocking distributors for Leroy Somer's entire range of LSA products. We are also the official alternator parts distributor in North and South America for Stamford and Leroy Somer. General Power is also the official export distributor in Latin America and the Caribbean for Kohler-SDMO industrial diesel generators.
Q: How many products do you carry?
A: Here is a short list of our product numbers:
20+ generator trailers from 3,500 to 10,400 lbs. capacity, in stock
50+ fuel tanks from 50 to 1000 gallons, in stock
100+ automatic transfer switches from 100 to 2000 amps, in stock
100+ diesel generators from 10 to 600 kW , in stock
200+ Diesel engines from 39 to 755 horsepower
200+ AC alternators from 10 to 3800 kW
1,000+ engine parts, alternator parts, generator parts, automatic voltage regulators and generator controls, in stock
Q: What specific products do you carry, and what sizes?
A: General Power carries the following:
Diesel Generators from 10 kW to 2500k KVA, powered by GENPOWERUSA, Kohler-SDMO, and Kohler Power Systems 100% designed, engineered and assembled in USA/EUROPE
AC Alternators and Generator Ends from 10 kW to 3800 kW Stamford, AvK, Leroy Somer, Marathon, Marelli and Mecc Alte
Automatic Transfer Switches from 100 to 2000 amps, by ASCO, GE Zenith
Automatic Voltage Regulators for every major alternator brand in the world
Fuel Tanks from 30 to 5000 gallons, single wall and double wall UL142 listed
Generator Trailer from 3,500 to 10,400 pound capacity
Generator Controls manufactured by Deep Sea, Kohler-SDMO, and Basler
Alternator Parts for Stamford, AvK, Leroy Somer, Basler, Marathon, Marelli, Cummins, and Kato
Q: Why don't you use Chinese parts or Chinese-built products?
A: Many Chinese generators are copies of U.S. generators, but made with inferior parts. They don't have EPA certification. We refuse to buy Chinese products. In fact, 100% of General Power's products are purchased directly from the original manufacturers, are individually serialized and can be individually tracked back to the factory.
Q: What kW sizes do you carry?
A: We now go up to 500 kw.
Q: What experience does General Power have? What's the company's reputation?
A: General Power has more than 40 years combined industry experience operating both in North America and South America. We serve more than 100 countries around the world. We fill more than 2,000 orders every year, ship more than 6,000 products a year and have $15 million in sales each year, and growing. We have an A+ rating from the Better Business Bureau.
Q: What level of expertise does your staff have?
A: All of our sales specialists and engineers are individually certified by the Electrical Generating Systems Association.
Q: How quickly does General Power ship orders?
A: We have all major brands of generator parts ready to ship same day to any country in the world.
Q: Where is General Power located?
A: Our highly strategic and centralized location is only minutes away from the Port of Miami and Port Everglades, Miami International Airport and close to several hundred freight forwarders in the Miami, Florida, area.
Q: Do you have other distribution locations?
A: General Power always carries an inventory of 300+ generators in strategic generator distribution centers in the United States, France, Spain, the United Kingdom, Mexico, Colombia, Panama and China.
Q: What does it take to become a General Power distributor? Do I have to invest anything to become a General Power distributor?
A: You need to be able to purchase a minimum of $500k a year, and you need to buy regularly. Quarterly reviews are considered. No initial investment is needed.
Q: What does a distributor have to do in order to get exclusive territory?
A: There is no exclusivity of territory but we make sure that we do not assign dealers who will directly compete in the same territory.
Q: What if we do not meet our goals?
A: Pricing offers and credit terms will be voided.
Q: Are there different spare parts goals?
A: For parts, the goal is $40,000 a year.
Q: How long it takes to approve a credit application?
A: Two weeks.
Q: What are your terms of sale?
A: We list full terms of sale at this page.
Q: How can I keep up to date with the latest in generators, alternators, EPA regulations and more?
A: Go to our blog for the latest, or sign up for our monthly newsletter.
Q: What is General Power's privacy policy?
A: Visit our privacy policy page for information.
Q: How can I find more information about General Power?
A: Download our brochure or our corporate overview presentation.
Q: Who do we speak to for technical support? Is it 24/7 support?
A: Contact us by phone at 1-833-428-0674 and by fax at 1-305-471-9568. You can also fill out a contact form and we'll get back to you.
Additionally, you can see specs, manuals, diagrams and more 24/7 at our Technical Support page.